A Christmas Jar is a pickle jar, peanut butter jar, Mason jar or whatever else you have around to collect your spare change each day. All coins are dedicated to the jar, and during the week before Christmas you carefully select someone to give it to anonymously... read more

Click here for some of the real-life Christmas Jar miracles submitted from jar givers and recipients around the country.

Did you receive a Christmas Jar? Did you give one away?

In 2013, thousands of Christmas Jars were given away all across America. Were you part of the magic? Please share your story of giving or receiving a jar by submitting your story here. We'd love to post it online to inspire others. Stories are now posted at christmasjarstruestories.com.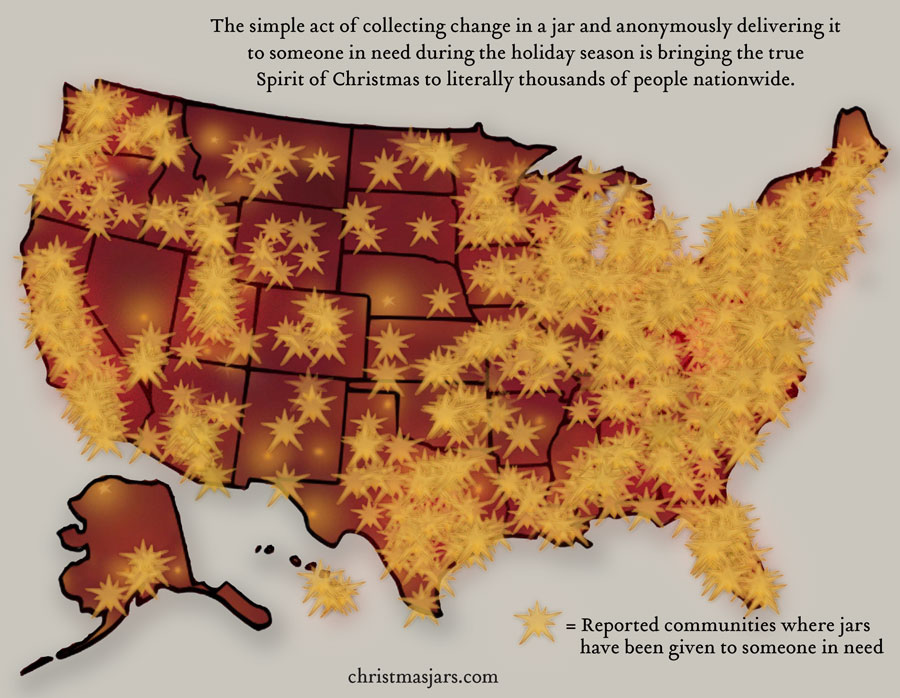 Last update: January 2014
True Christmas Jars Stories
'All the children's presents were stolen'
So far, we have given the contents one year to a family on Long Island. This year our jar's contents were sent to a family in NJ whose house was forcefully entered, and all the children's presents were stolen. It feels wonderful to be able to bless someone with the true gift of Christmas, love, as shown by our Savior... read more
Meet Jason
Follow Jason

Facebook and Twitter
Sign up for Jason's Newsletter
© 2005-2014 Jason F. Wright. All rights reserved.